After the first two weeks I thought this would be a very unproductive month (when it comes to reading at least) but then school started and I realised how much I can read while waiting for my train(s) so that's something!
I'm now at 47 books of my 50 books reading challenge. I guess I should update it but I don't know to what amount. Hm.
The best
The Hate U Give by Angie Thomas
My rating: 5 of 5 stars
For some reason, I just can't get around to write a proper review for this. But it's so good. Probably in my top 10 best books I've read this year.
The Hate U Give was apparently highly anticipated and hyped (and as always I didn't notice a lot of that) and every hype around this is certainly worth it! It's such an amazing book in every way you can think of and I love it.
This book is about teenagers, about racism, about different neighbourhoods, about black lives matter and injustice.
It has the most amazing characters. Everyone – not just the main people but literally everyone – has a story and characteristics and a goal or something they are going through. Everyone is well written and super interesting and everyone brings something to the story.
The Hate U Give is a sad book – and it gets sad way quicker than I expected – but there's also humour and fun moments and family life and, ugh, everything is just so complex and well-done, I love it.
The thing I like least is probably the romance but on the other hand, I really like how it's not a big deal and just one of the many topics in this story.
Everything about the movement and the racism Starr and her people face is SO GOOD and so interesting and it made me so damn emotional. I wanted to get through this book quickly because it's so captivating but I regretted reading almost all of it on public transport because I couldn't cry. And I definitely wanted to.
Such a great book, so well-written, I recommend it to everyone, for sure.
The rest
The Crown's Game by Evelyn Skye
My rating: 3 of 5 stars
I really liked the idea of a book set in 19th century Russia that has a bit of magic and I really liked the cover so of course, I had to buy this book. I knew from the beginning I wouldn't love it but I definitely still liked it.
Vika and Nikolai are a bit annoying at times and they aren't characters you can relate to and I didn't enjoy the whole love triangle thing a lot but I really liked the story itself. For some reason, magical competitions are totally my thing. The ideas they brought into the game were quite creative and I liked seeing what they could do, I just wish the magic itself could be explained a bit more?
Saint Petersburg and the Russian Empire were explained so well, though, I really enjoyed reading about all these places.
I love the usage of a few French and Russian phrases, I'm a bit of a language nerd and that just makes everything better for me. Another thing that I appreciated a lot was the baking! So much cake and pastry and pastry + magic??? Amazing. Need more of that, please.
Closer to the end I got more into the story and some plot points came up that could be really interesting in the sequel! I'm also quite shocked and not really satisfied with the ending so… I guess I'll have to read on!
The Full Spectrum: A New Generation of Writing About Gay, Lesbian, Bisexual, Transgender, Question by David Levithan
My rating: 3 of 5 stars
This was quite interesting! There were LGBTQ people (mostly young people) of all kinds telling their stories.
Some stories were really interesting and very well written, others a bit less so. Many of them were very hard to read (featuring homophobia, transphobia, self harm, suicidal thoughts, abuse,…), that's why it took me a while to get through this book.
I found some of the stories a bit problematic? I don't really want to go into details but hmpf.
I really wish there would have been more poetry because the few poems that were featured were really beautiful and interesting.
All in all, this book was quite nice to read but nothing really thrilled me.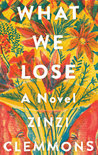 What We Lose by Zinzi Clemmons
My rating: 3 of 5 stars
I really want to give this book four stars but it's just not enough in some way.
This book isn't written in long chapters but basically just in pages or paragraphs or very, very short chapters. That makes it quite fast paced and interesting and you are jumping around between different points in Thandi's life and layout illustrates that in a way. I really liked that and I loved that there are a few parts of essays, photographs and graphs in this book! That's not really usual for this type of novel, I'd say, and I always appreciate visually interesting things and when authors do something a bit different.
The story itself was interesting as well. Most of the book deals in some way with the illness and death of Thandi's mother but that's not everything. We get to know her and her best friend and her lovers and what happens to her after her mother dies.
The parts about grieving were so well written and so sad and they didn't need long descriptions to be heart-wrenching.
I enjoyed reading this book but I also felt a bit disconnected from everything, especially in the second half. The part about Thandi's relationship with Peter and everything that followed seem different from the rest of the book. I generally didn't like this part as much, same with the ending.
It's a good, rather short, story that's definitely something a bit different and certainly interesting. Also, look at this beautiful cover!
See you soon ❤