I again read four books this month. And again It took me half of the month to read the last one. Both of those things are beginning to get boring. BUT I read some good and some very interesting stuff this month so I can't really complain!
EDIT: I didn't expect to finish my re-read of The Fault in Our Stars so quickly so I actually managed to read five books?? Wow!
The best
The Rose & the Dagger by Renee Ahdieh
My rating: 5 of 5 stars
This was amazing! I adored The Wrath & The Dawn and was really excited for the second book. I didn't know at first that there wouldn't be a third part and that this is the end but the story fit perfectly into two books so it totally makes sense.
The things that I loved so much about the first book appeared just as much or even more in part 2 and I'm SO happy about that!
My favourite thing: the girls. Both Shazi and her sister Irsa are great characters and I'm so glad they are not just damsels in distress or there for the romance. Shazi definitely developed in time and got stronger but she is still snarky and sassy as always and I LOVED her confrontations with everyone. But it is also definitely shown that she has flaws and isn't good at everything. The same goes for her sister who gets a way bigger role than in book 1 and who has her own plot and has her part in saving the world (well, saving two countries, at least). There are two more female characters that are awesome and badass and who I was very happy to see in the end and I'm also really happy about their endings but I don't want to spoil anything.
Shazi does explore her magic a bit, I just wished she'd do it even more. But: Magic carpet. I was so happy whenever it showed up. If you need a reason to read this book then that should help. Gosh, I love flying carpets.
It was really interesting to learn a bit more about the magic in this universe and it was nice to have just a little bit of it for a change but… it was such cool magic, I want MORE!
I (again) have to note how beautifully written this book is. Everything sounds like a quote worth remembering or like a poem or an important story. Every sentence matters and it's not excessively long or too heavily described. No, it's just perfect.
I must say that the plot wasn't quite as exciting as in the first book, but almost as good. Everything is a bit sadder and darker and more confusing. Parts of the plot are happening in different places so you're jumping back and forth a bit and I liked that quite a lot, but it didn't feel quite as fast paced as I thought it would.
I still really enjoyed everything I read. I'm incredibly happy with the ending. For me, this book was happy and sad and romantic and sassy enough to be just perfect. The only thing that annoyed me was the annoying teenage boys who were way too dramatic and who made everything more complicated and worse. But we already had that in the first book so this shouldn't be a surprise.
The love drama and the kind-of-love-triangle-but-not-really were dealt with so well! It wasn't about the girl choosing between two boys, it was more about the girl already knowing what she wants and the boys being kinda stupid so that it takes them way too long to get over it. But it also shows how people can grow and understand and I really enjoyed that.
All in all, an amazing book with beautiful characters and a beautiful plot and THE MOST BEAUTIFUL COVER EVER AHH. And I thought The Wrath & The Dawn looked great in my bookshelf!
The Fault in Our Stars by John Green
My rating: 5 of 5 stars
RE-READ JULY 2017
I haven't read this book in over two years and I figured now that John Green is finally releasing a new book this fall (I'm so excited) I just go back and read it again. And it felt like coming home.
Even though some time has passed, I still remember everything that happened and so many scenes and so many quotes! And that's quite unusual for me because I tend to forget specific things about books very, very quickly (it's quite annoying). But not with TFIOS. I really must have read it seven times, even though I don't remember all those seven times.
I still cry buckets while reading this book and I'm still surprised with how much I love it. It inspires me and gives me hope but it also makes me sad because life is unfair and cancer exists. Honestly, I could just copy and paste everything I wrote below, it's all still relevant.
The rest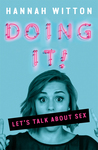 Doing It!: Let's Talk About Sex by Hannah Witton
My rating: 4 of 5 stars
This was so interesting! I've been watching Hannah Witton's YouTube videos for a while and I always found them interesting and funny so I knew this wouldn't be bad at all.
She combined a lot of interesting and important topics about relationships and sex and our bodies in this book. Some things I knew before, some were new to me.
I especially love that she got a lot of super interesting people to write about their experiences or topics they know best. This made this book quite diverse and I definitely appreciate that! Some of those people I knew before and it was really nice to see them again or learn more about them.
Even though some of the topics were quite serious and nothing to laugh about, Hannah managed to get a lot of humour and funny anecdotes in it so Doing It! became more than just a guide.
Definitely a fun read and I'm pretty sure everyone can learn something from this book.
Eurovision!: A History of Modern Europe Through the World's Greatest Song Contest by Chris West
My rating: 4 of 5 stars
This was an incredibly interesting read. Anyone who follows me on Twitter (or any other social media) will probably know by now how much I love the Eurovision Song Contest and how much I care about it.
Another thing that I love very much is history.
I haven't had a history lesson in three years so I usually compensate by watching YouTube videos about empires and the horrible things they did but switching to this book was an amazing idea. I saw some of my fellow Eurovision-loving friends talk about it and immediately knew I should buy this book.
Eurovision! actually includes way more history than I thought it would. The book has one chapter for every year of Eurovision (1956 – 2016) and every chapter includes what happened in the world of Eurovision and in the world of politics, wars, social changes, and so on. Chris West includes all the plans and ideas to unite Europe, statistics on what people thought about these ideas, which troubles we had with European countries or which troubles European countries had with other nations, and more.
On the music side, he talks about some of the more interesting songs of every year of Eurovision, about the rules and technologies that have changed, about the controversies Eurovision or certain artists or songs caused and on how politics sometimes influenced the contest.
I definitely learned a lot about history. I think in school we don't learn enough about what happens after World War 2 so I only had an overview about certain things and this book added more facts to these gaps. I also learned more about Eurovision, especially the early years and the controversy that the contest brought with it even back then.
It's very interesting to see how both Eurovision and Europe developed over the past 60 years and to see which influences contributed to the changes.
Especially in the last 15 or 20 years/chapters I don't always agree with the author's opinion on the EU and on certain countries but I still enjoyed reading all of it and I'm glad this book wasn't dry or boring but in fact not just insightful but also quite witty and generally just really interesting!
Swing Time by Zadie Smith
My rating: 3 of 5 stars
To be honest, I thought I would like this book more. It seemed interesting to me but it's always a 50/50 chance with me and fiction, it seems. This book and I didn't agree on a lot of things.
Swing Time is about several women to lead very different lives and who are in contact with each other but not all in the same way or for the same amount of time. It deals with race and class and relationships and so many other topics. These topics on their own are already interesting for me and I really liked how they were tackled and the book definitely made a few points that I found very important but there were other parts I did not enjoy at all.
I couldn't connect at all with any of the characters. I found all of them rather annoying and it took me forever to get through the first 150 pages. I didn't particularly enjoy the jumping around in time. The story is always told by the same person (who's name we never go which annoyed me so much more than I thought it would – why?) but we jump back and forth through her life and I found that pretty confusing and I always forgot when which part is happening and so on – surely that has to do with not reading larger parts in one go, but still.
I got more into it during the second part of the book, finally, but all of my points still remained.
All in all, I still liked this book and it was not a bad read but also not a very good one.
Any thoughts or recommendations? Feel free to chat with me about them!
See you soon ❤